The Western Way
The Western Way is a long-distance walking trail taking in spectacular scenery in the counties of Galway and Mayo in the west of Ireland. The trail begins in Oughterard in County Galway and continues north toward Maum. From Maum it makes its way through the Inagh valley from where it reaches Killary Harbour near Leenane.
The Western Way enters County Mayo at Aasleagh. It then continues in a northerly direction, crossing the eastern slopes of Croagh Patrick, through Westport town to Newport. The trail passes through the Nephin Mountains to Derry, Bellacorick and Sheskin where it traverses the most remote landscape. From Ballycastle in north Mayo it follows the coastline through Killala to Ballina and on to the County Sligo border near Bunnyconnellan, over 200 kilometres from the start.
Notices
*The Letterkeen to Bunnyconnellan sections of the route will be closed until further notice.
*Warning regarding routes on Westport Greenway due to ongoing road works. Local signage in place highlighting most changes.
The Trail is mainly a Moderate grade.
Definition:
MODERATE:  These trails may have some climbs and may have an uneven surface where the going is rough underfoot with some obstacles such as protruding roots, rocks etc. The routes are appropriate for people with a moderate level of fitness and some walking experience. Specific outdoor walking footwear and clothing is recommended.
Trail Map
Click on the route sections for information on each section.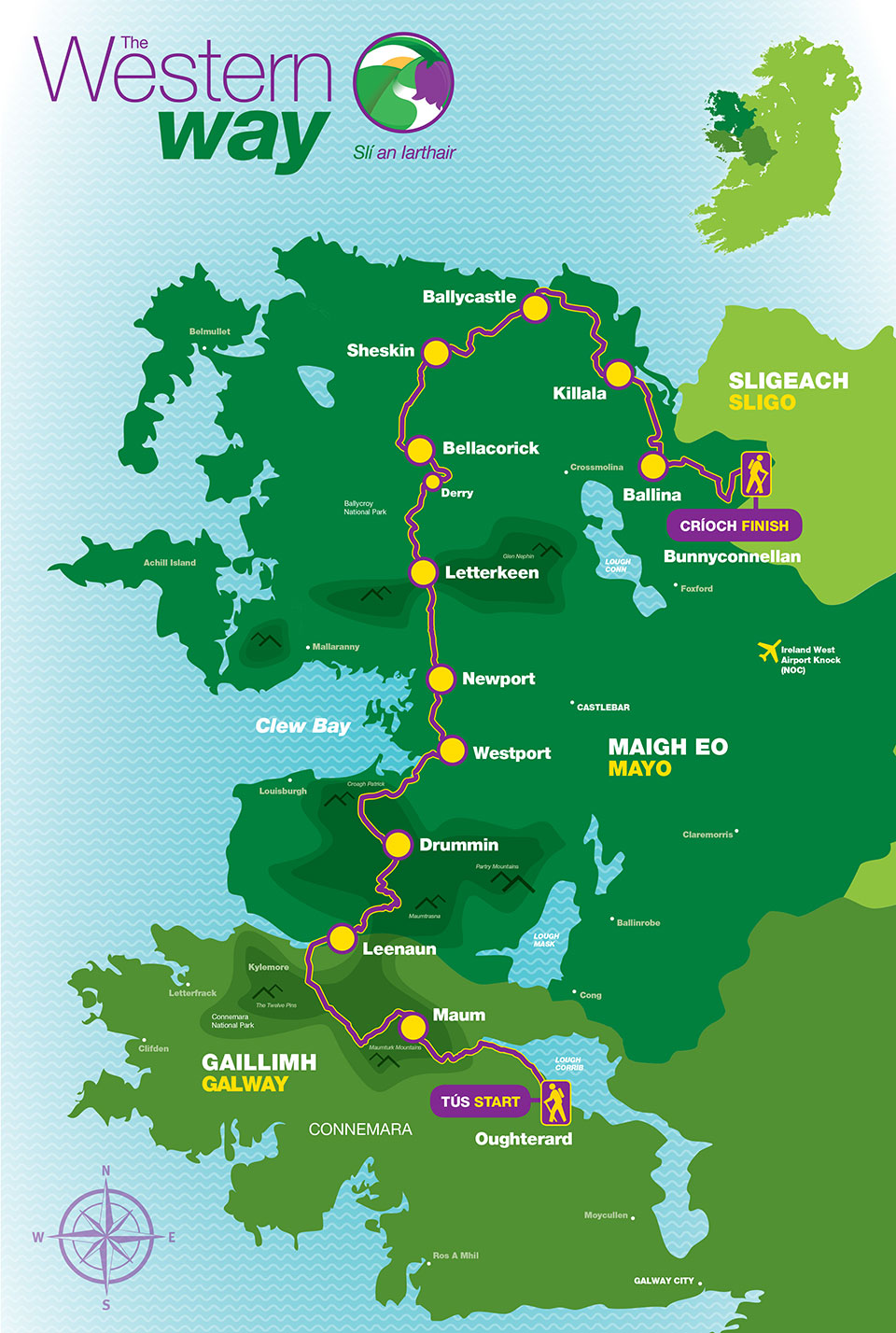 Safety and Comfort
For your safety and comfort please ensure you have:
Good hiking footwear
Rain gear
Trail food and drinks
Carry a mobile phone
Take care near streams in flood
Take care crossing a mountain pass
Be aware the trail passes through remote countryside
Inform someone about your intended itinerary

Leave No Trace
PRINCIPLES
Plan ahead and prepare
Be considerate of others
Respect farm animals and wildlife
Leave what you find
Dispose of waste properly
PLEASE ADHERE TO THIS CODE IN ANY TRIP TO THE OUTDOORS
NOTICE: Some of the property traversed by the Western Way is private property. Access is available by kind permission of all the landowners/holders on the route. It is understood that persons entering do so by permission with the consent of the landowner and no matter how often they enter, or in what numbers, they do not do so as of right. No amount of expenditure by the partners to this agreement or by private individuals on the route being used will alter this position. As further evidence of the permissive nature of the access, the route will be closed on the 28th of February each year in agreement with the landowners. Nothing in this notice shall impact or address any pre-existing public rights of way.

TRAILHEAD


NO DOGS ALLOWED